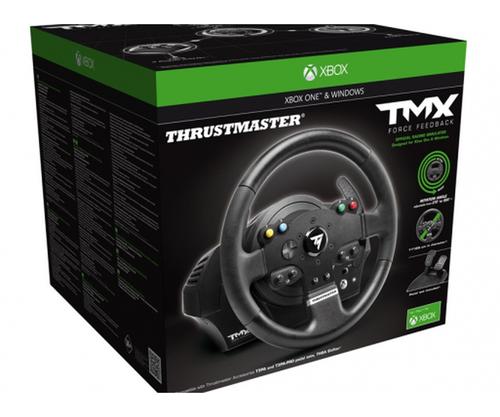 Wheel Thrustmaster TMX FFB Pc/Xbox One
L29,990.00
In stock
Description
28 cm diameter racing wheel, with an ergonomic design perfectly adapted for all driving games. Experience every racing sensation to the fullest thanks to the realistic Force Feedback – the road or track's relief, loss of tire grip, braking, bumps and impacts, etc. All controls within easy reach
Never take your hands off the wheel, thanks to the built-in official buttons for Xbox One: Xbox Guide button, View and Menu. Easily access all social functions, switch between the game and the system, navigate through the console's menus, etc.
Extreme racing precision
A rotation angle adjustable from 270 to 900 degree allows gamers to race in all vehicles with unrivalled realism.
Maximum racing comfort
The wheel features reinforced rubber-coated grips. Sequential gear shifts are facilitated by the two large (13 cm tall), 100% metal wheel-mounted sequential paddle shifters.
Information
Information
Shipping
We currently offer free shipping in Albania and Kosovo for orders over ALL 10,000.
Assistance
Contact us on email us at [email protected] .
Additional information
Estimated delivery:
3 days